KEEPING EMPLOYEES HAPPY: BENEFITS
At Endurance we start every day by asking ourselves, how can we make the web a better place and deliver valuable services and solutions? This question applies not only to our brands and customers, but also to our culture, work environment and the Total Rewards Program we offer our employees.
We know we are better together! Benefits play an important role in your choice of an employer. That's why we work hard to make sure our benefits reflect the changing needs and wants of our people, and it's why we provide many industry-leading benefits to our employees who rely on them.
Our goal is to empower you with the resources, incentives, and flexibility you need to enjoy success on the job and to live a healthy, balanced life.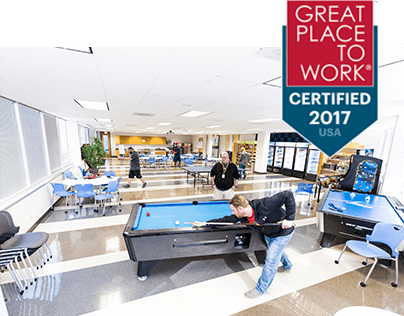 Health & Wellness
Endurance helps keep employees fit and healthy with generous health benefits.
Medical, dental, vision, disability
Generous time away benefits to rest & recharge
Parental & Caregiver Leave
Healthy living programs
Employee Assistance Plan
Virtual Visits (yup, see a doctor from the comfort of your own home)
Health fairs, flu shots, wellness perks
On-site health and wellness assessments
Total Rewards
No one wants to work forever and we want every employee to feel financially stable and amply rewarded for their work.
Equity via option grants
401k program with employer match
Professional development tuition support
Flex spending accounts
Beyond the Basics
In addition to the above benefits, all of our locations offer some pretty cool perks! We enjoy watching our individual locations create a culture of their own. It's not unusual to find free lunch, relaxing break rooms, and pretty competitive ping pong games! Each Endurance location believes it's important to have fun at work and celebrate our successes.
Local discount or onsite gym facilities
Reward & Recognition specific to each location
Company-wide celebrations and events: Town Halls, picnics, holiday parties
Team-building and professional development
Endurance University
STAY CONNECTED
Sign up to be part of our Talent Community and get the latest news from Endurance, including the hottest job opportunities.